We are passionate about sourcing fresh ingredients, combining with traditional flavors and continually evolving our menu to create a dinging experience that is truly unique.
Small Bites
Order for the table and spread the love.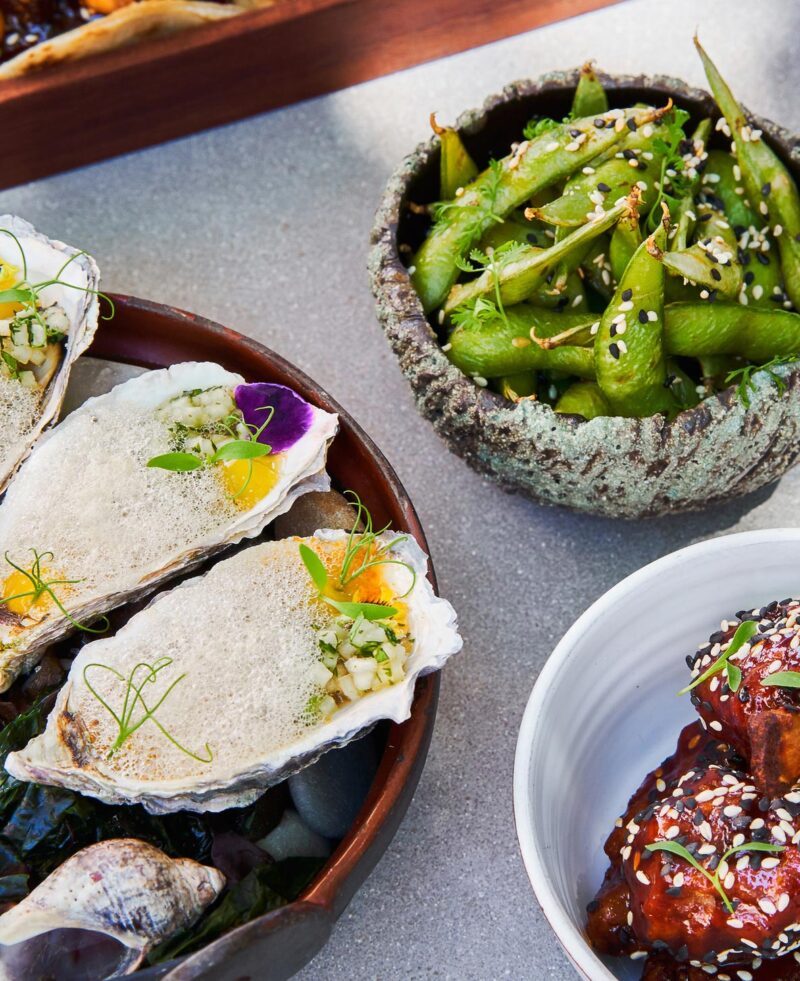 Green papaya salad
shrimp, chili & lime
12
Black pepper calamari
Galangal dressing, roasted rice, thai basil
14
Tumeric spiced cauliflower
Sesame tofu dressing, furikake
11
Kingfish sashimi
Green nam jim, coconut & thai basil
15
Caramelised betel leaf
Pineapple, Chili
12
Pacific oysters (price per piece)
Ponzu, sriracha
5
Thai chicken lettuce cups
Chilis, thai basil, crispy garlic, fried egg
13
Shishito Peppers
Yuzu, sesame
9
Hot Dishes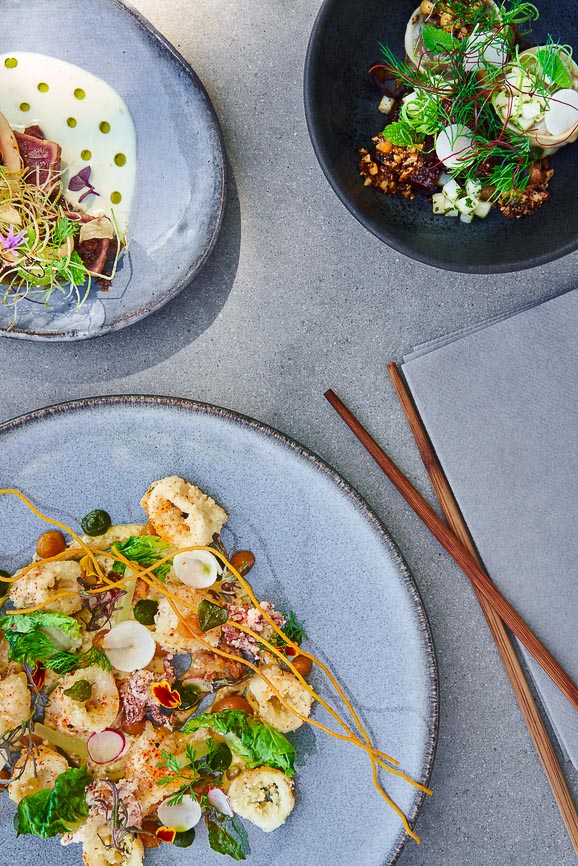 Sesame Chicken
Chinese eggplant, sweet chili soy glaze, green onion, pineapple, ginger
18
Chicken Wings
Thai basil, chili, peanuts, green papaya, cilantro
22
Ribeye Bites Roasted
Shishito Peppers, Jalapeño Crème
23
Blackened Fish Sandwich
Crunchy cabbage, wild baby arugula, tomato, house made tartar sauce, on a brioche bun
9
Siji Chun "Four Seasons"
Intense floral aroma and delicate fruity taste without any bitterness or dryness
4
Black Pepper Chili Chicken
Pepper, onion, bamboo shoot, celery
14
Stir fried Eggplant
Chinese eggplant, sweet chili soy glaze, green onion, garlic
12
Chinese broccoli
Black bean sauce
7
Blackened Snapper
Steamed bok choy, ginger kaffir lime vinaigrette
24
Wagyu ribeye teppanyaki
Snow peas, shimeji mushrooms
28
Grilled Pork Chop
Vietnamese slaw, cashew & shrimp sambal
28
Desserts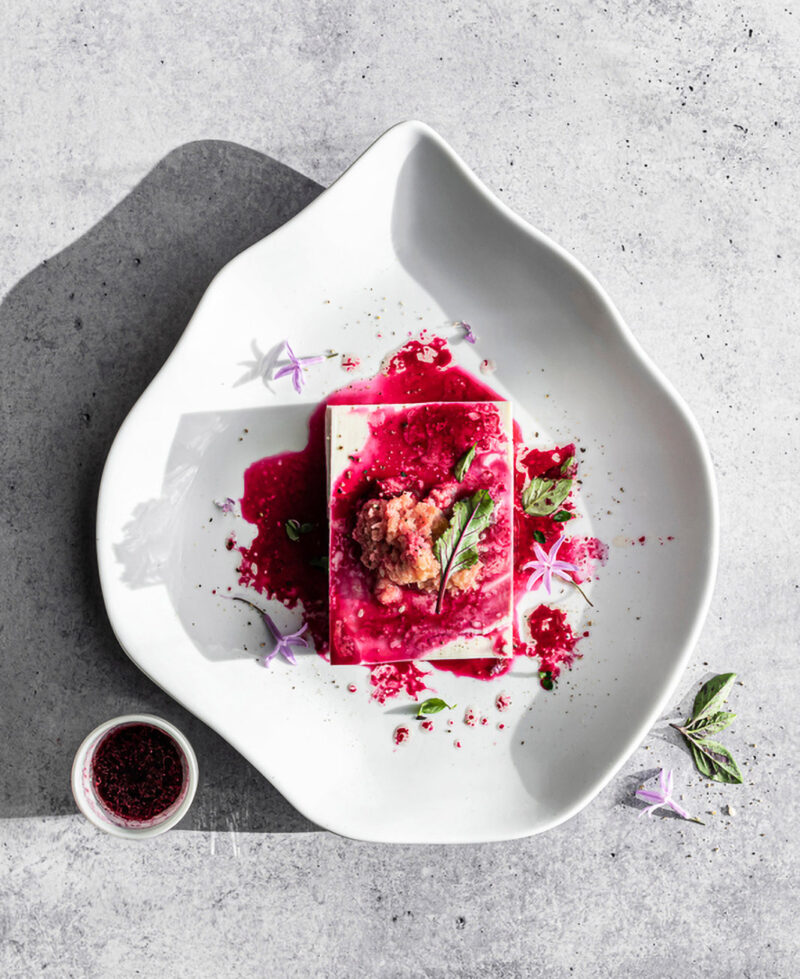 Dessert platter
Chef's selection of sweets.
Serves 2
19
Fruit Plate
Seasonal selections of fruits, shaved coconut, vanilla drizzle, mint
14
Fried Banana
Panko crusted with caramel sauce, banana brulee, caramel popcorn
9
Sorbet
Watermelon, passion fruit, strawberry, mango, orange
7
Thai Donut
Fried donut dipped with sweet condense milk & peanut
8
Banana spring rolls
Honey glaze, vanilla drizzle, coconut-pineapple ice cream
7
Mochi Ice Cream
Mango, Salted Caramel, Lychee, Chocolate, Strawberry
8
Lavender scented pancakes
Bananas, raspberries, vanilla butter, shaved coconut, mint
9
Tea Menu
Tea Rituals for Focus, Health & Slowness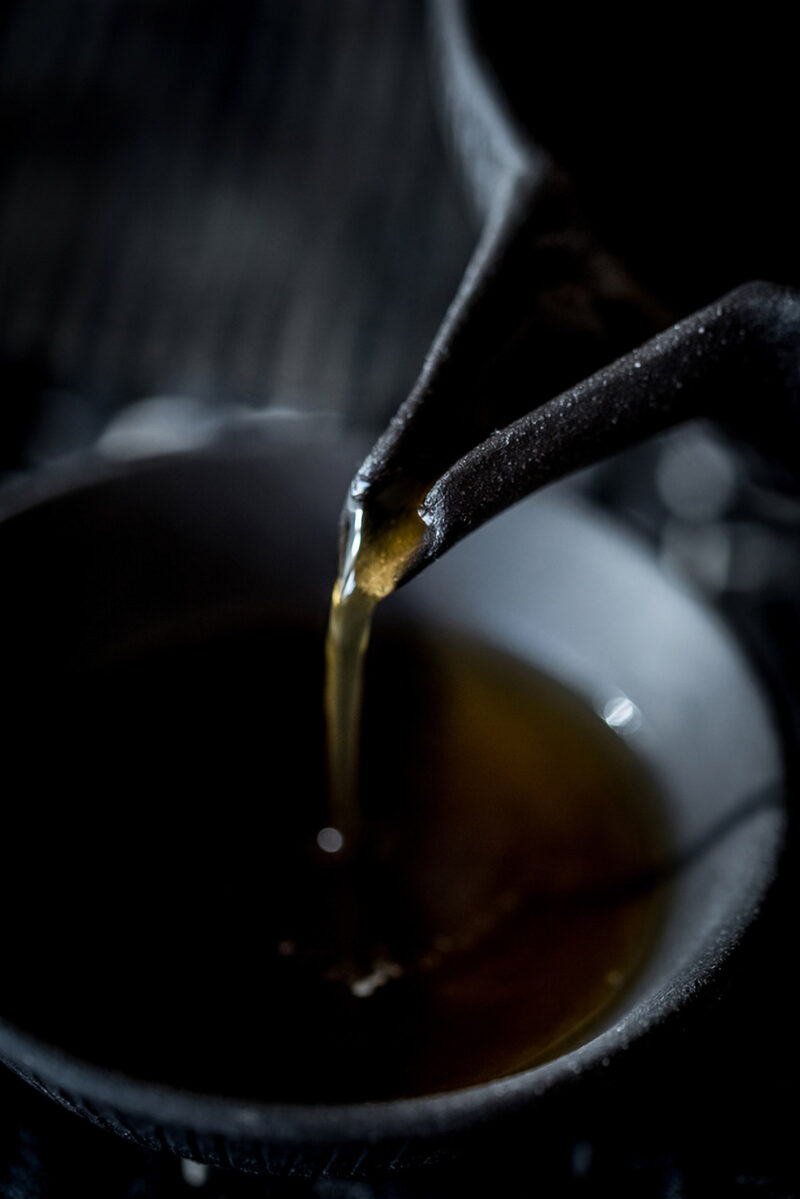 Ti Quan Yin
Intense aroma, depth and fruitiness- ranked as one of the most famous teas in China
4
Sencha
Shiny needlelike tea leaves that yield a slighty grassy, clean refreshing brew, the most popular tea in Japan
5
Gunpowder
Green pellets of rolled tea leaves that produces a pleasant smokey flavor
6
Zhenghe Bai Mudan "White Peony"
Fresh bamboo aroma, lightly sweet flavor with notes of melon and grape
4
Hong Tao
Peachy flavor, goes well with dessert
4
Jin Xuan
Creamy smooth texture, incredible milk aroma and taste with a naturally sweet flavor. Goes well with spicy foods
5
Da Yu Ling
Buttery aroma with a sweet flavor topped off with floral and tangerine scents
5
Siji Chun "Four Seasons"
Intense floral aroma and delicate fruity taste without any bitterness or dryness
4
Tao Hong Cha blend
Mellow tea with hints of soothing chamomile and lavender
4